Follow Me on Twitter
My bio is here
All of my stories for Informed Comment are here
My article "KKK Without the Robes: DeSantis has Gutted Florida Education, Cancelled Black History & Criminalized LGBTQ+ People" is on Juan Cole's Website Informed Comment
My article "Invasion of the Mind Snatchers: How to Combat the GOP Election Denialist Plot to Subvert Democracy" is on Juan Cole's Website Informed Comment
My article "Revolt of the Rational: Women & other Mainstream Americans rise against Forced-Birth Republicans and MAGA Fascists" is on Juan Cole's Website Informed Comment
My article "Republican Mainstreaming of White Supremacy Fuels Extremist Violence like the Racist Massacre in Buffalo" is on Juan Cole's Website Informed Comment
From the story in the Chicago Reader: "Chicago's greatest postpunk obscurity returns from oblivion"
"In 1983 at Columbia College, Stations made what would turn out to be their only other release, a video for the song "Fear & Fascination" shot on black-and-white 16-millimeter film and edited on videotape. Dan Dinello directed the clip, and it came out in 1984. It might be the first American goth video—a song about the limits of language and the arising of new forms of human communication."
From Chicago Film Archives:
We're very excited that Dan Dinello — writer, filmmaker, and Columbia College Chicago professor emeritus — has donated his personal 16mm prints of six independent short films to Chicago Film Archives, inaugurating our Dan Dinello Collection.
These films were made between 1978 and 1997 by Dan and various collaborators, including Second City comedy notables Paul Dinello (Dan's nephew), Stephen Colbert, and Amy Sederis. Dan writes, "Though all the films have a social/political perspective, they range from the humorous to the horrific, from the distressing to the joyful and from the weird to the realistic."
Princemas in July 2022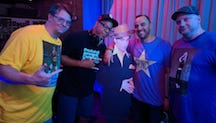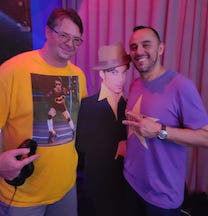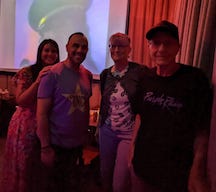 Dana Dinello & "Cool Cabanas" -- 24-6 --win Spring 2022 Women's 4's Players Volleyball Championship at Windy City Fieldhouse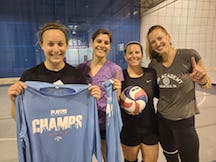 My article "The same MAGA mob Who supported Insurrection are Smearing pro-American Afghan Refugees as Dangerous" is on Juan Cole's Website Informed Comment
My article "Jim Crow and 'Lost Cause' 2.0: Trump's Big Lie and GOP Plot to Steal the Vote" is on Juan Cole's Website Informed Comment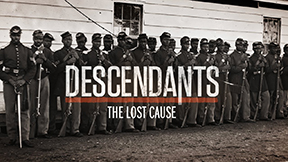 My article "Winning the War for Earth: Kim Stanley Robinson's subversive novel Rejects Doomism and Imagines a Hopeful Solution to the Climate Emergency" is on Juan Cole's Website Informed Comment
My Article "Democracy's Night of the Living Dead" is on Informed Comment
"Like a political remake of Night of the Living Dead, the Republican Party — put to death by the Lame Duck's poisonous presidency — has reanimated as the Zombie Party. This hollowed out, brain-dead duplicate looks the same, but has been implanted with the traitorous delusions of the demented ex-President."
My article "Warped Speed: How Trump's Push for a Quick and Dirty Covid Vaccine could Boomerang and Destroy Public Trust" is on Informed Comment
"Despite more than 205,000 dead and 7.2 million infected, including him, Trump mendaciously claims that the pandemic "affects virtually nobody" while falsely promising a Covid vaccine by Election Day."
My article "A Confederacy of Vigilantes: White Supremacists, including some Police, attack BLM Protesters, Prepare to Defend Trump's Theft of the Presidency" is on Informed Comment
"Be wary of paramilitaries. When the men with guns who have always claimed to be against the system start wearing uniforms and marching around with torches and pictures of a Leader, the end is nigh. When the pro-leader paramilitary and the official police and military intermingle, the end has come." Timothy Snyder On Tyranny
My article "American Nervous Breakdown: Super-Spreader Trump and His Deranged Cult Infect Us All with Their Toxic Lunacy" is on Juan Cole's Website Informed Comment
"Trump resembles the feline parasite Toxoplasma gondii: he hijacks the brains of his host-fans, compels them to act in his self-interest, and controls their behavior with bad, self-destructive ideas that are contrary to their rational judgement. "
My article "Maskless in the Red Death: Trump is Guilty of Negligent Genocide as the Plagues of Racism and Covid-19 Combine to Kill African-Americans" is on Juan Cole's Website Informed Comment
"As Donald Trump sits idly by, the nation is experiencing both a catastrophic public health collapse that has brought international humiliation as well as a convulsive, impassioned protest movement that indicts police brutality and systemic racism. Trump's negligent response to the pandemic — morally amounting to genocide — has been as fundamentally racist as the policing tactics that led to the deaths of George Floyd, Breonna Taylor and far too many other Black Americans."
Please check out my article on Juan Cole's Website Informed Comment: "The Other Looting: Nationwide Police Looting Fueled by Trump's Talk of Terrorists" -
"A horrifying spectacle is playing out across the United States: a savage police riot is being waged against citizens whose crime is daring to criticize police violence and systemic racism."
2020 Fascism, American Style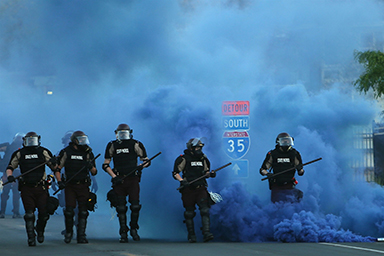 My article "A Malignant Contagion, Trumpism's Mindless on Coronavirus and Albert Camus'The Plague is on Juan Cole's Website Informed Comment: "Albert Camus' The Plague evokes the malign contagion of Trumpism -- the mindless death cult that infects America with its disdain for facts, science, experience, democracy and human life.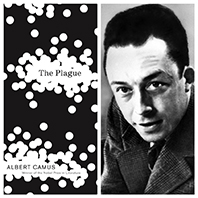 My article "Trumpandemic: Trump Spreads the Germs of Racial Hatred and Xenophobia" is on Juan Cole's Website Informed Comment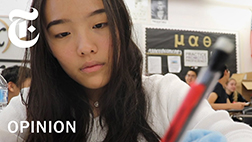 "Trump has systematically focused on a xenophobic rebranding of COVID-19 as a "foreign virus" or a "Chinese disease . . ."
My article "Children of Men Come True: Trump Immigration Crackdown outdoes Cuaron's Science Fiction Dystopia" is on Juan Cole's Website Informed Comment: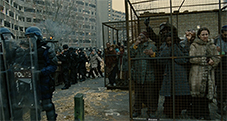 "Like the dystopian nightmare imagined in the 2006 science fiction masterpiece Children of Men, Trump's xenophobic efforts to terminate immigration result in death, suffering, humiliation, and destroyed lives. Under Trump, the speed of America's plunge into casual barbarism is breathtaking . . ."
My article "WAR CRIMINAL IN THE WHITE HOUSE" is on Juan Cole's Website Informed Comment: "With the drone missle assassination of Iranian Gen. Qassem Soleimani, President Trump launched a reckless criminal act of state terror . . ."
My new book Children of Men is out now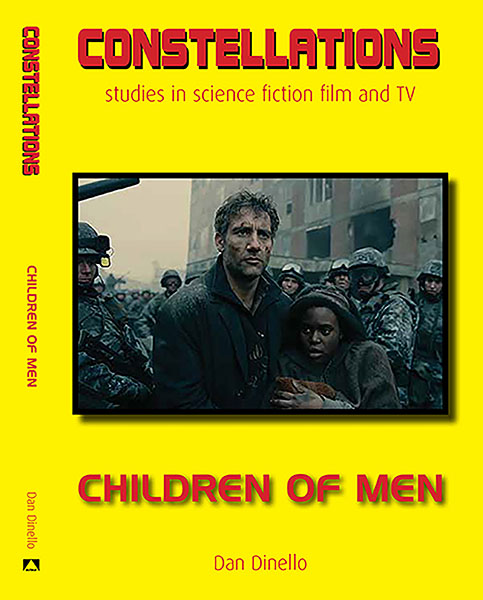 STARBURST MAGAZINE REVIEWS THE BOOK IN ITS JANUARY, 2020 ISSUE, CALLING IT: "PERSUASIVE . . . POWERFULLY ARGUED" . . ."IMPRESSIVE, INTELLIGENT AND PERCEPTIVE."
Read interview with Dan Dinello about his book Children of Men: Professor Emeritus of Cinema and Television Arts discusses themes of nationalism, xenophobia, and gendered violence in Children of Men.
PRINCEMAS 2019
DJ Spinello (Bryan Dinello), Dan Dinello, DJ J-Humph (George Castellanos)
PRINCEMAS 2018
Dan Dinello - DJ Spinello (Bryan Dinello) --- Dan Dinello - Mimi Musker
Ron Majogany, Bryan (DJ Spinello), AJ --- DJ MassTransit, Dana Dinello, Maggie
My latest chapter "The Wretched of Westworld: Scientific Totalitarianism and Revolutionary Violence" is here: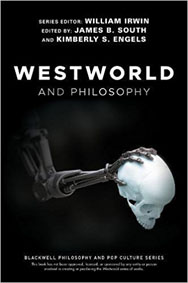 Dana Dinello & "No Shenanigans" win Fall 2018 Women's 6's Players Volleyball Championship at Windy City Fieldhouse
Please check out my story on Juan Cole's Website "Informed Comment"
"Like the Black Lodge in David Lynch's revival of Twin Peaks, reality is twisted into strange, absurd forms in the world of Trump. He tirelessly assaults common sense with exaggerations, blatant lies, insulting tweets and willful ignorance. Neo-fascist Trump practices a tyrannical rhetorical style that attempts to assert personal control over reality itself."
My chapter "Theater of Destruction: Chaos, Rage, Frustration & Anarchy in the Rebellious Music & Ferocious Performances of the Early Who" is in the new book:
Please check out my story on Juan Cole's Website "Informed Comment"
With his policies of bombing, bigotry and banning, Ted Cruz-ader fuels Islamophobia at home and promotes an anti-Muslim religious war abroad.
"The Borg as Contagious Collectivist Techno-Totalitarian Transhumanists" by Dan Dinello is in
The Ultimate Star Trek and Philosophy: The Search for Socrates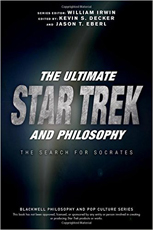 Bryan Dinello makes historic appearance on premiere of Late Show:
Bryan Dinello & Footage Crew on roof of Ed Sullivan Theater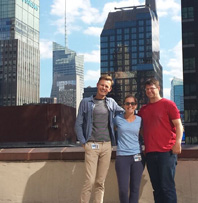 "Cybernetic Slaves" by Dan Dinello in issue #02 of Quaint Quarterly - Progress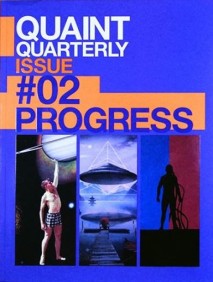 Congrats new Late Show: Stephen Colbert, Paul Dinello and Bryan Dinello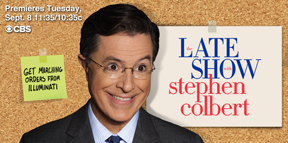 Please check out my story on Juan Cole's Website "Informed Comment"
Ebola's not the First Racial Germ Panic: The Long History of Xenophobia and Scapegoating
DANA DINELLO
works at Conlon Realty
She sells great houses in Chicago. You can make contact with her here. If you want to sell your house, she will work with you; if you want to buy, see what houses she's currently listing.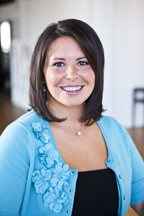 My new short book Finding Fela: My Strange Journey to Meet the Afrobeat King in Lagos is now available in all ebook formats. See the lead in Thomas Conner's story Fela's Fellas as well as this story in A Complicated Fela!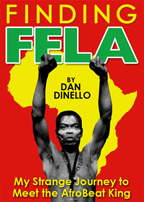 Shock DVD Volume 2: Short Films made by Dan and Paul Dinello - including "Wheels of Fury" (Amy Sedaris), "Shock Asylum" (Stephen Colbert), "Beyond the Door" (Stephen Colbert) & "How to be Popular"- can be purchased on this site Film/Video.
COLBERT REPORT ENDS
CONGRATS TO BRYAN, PAUL & STEPHEN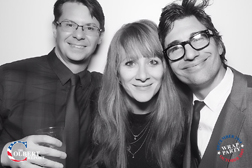 "See the World We Come From: Spiritual vs Technological Transcedence" is the title of my chapter in the new Book: Avatar and Philosophy: Learning to See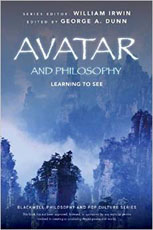 COLBERT REPORT WINS 2014 EMMY FOR BEST SHOW, BEST WRITING
Stephen Colbert, Paul Dinello, Bryan Dinello & Emmy-Winning Crew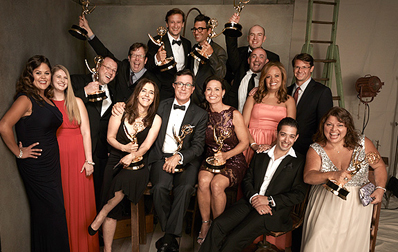 Bryan Dinello - Paul Dinello (Emmy 2014)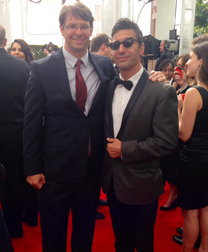 Rape Victim Advocates Spring 2014 Graduates----Dan Dinello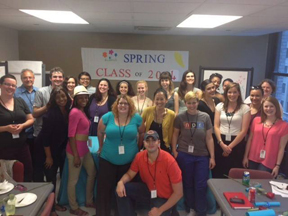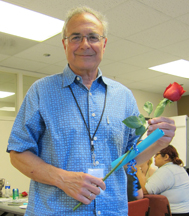 DJ Spinello posted his newest mix "Kicked in the Butt By Love" which follows 'Radiator Heat". Check it out: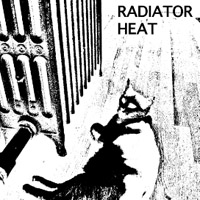 Chicago Artist Zirbel displays his new sculpture: Tower of Babel (2013)
Other Zirbel art can be seen here
Zirbel ------------Dan Dinello
Hard-working, Post-Production team on the Emmy-Award winning Colbert Report
Stephen Colbert ------------Bryan Dinello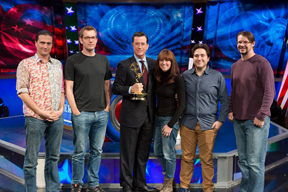 DJ Spinello posted his new 'Winter on Mercury' Mix on Podomatic. Check it out: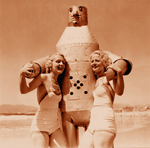 "Techno-Totalitarianism in Alien" is the title of my chapter (available here) in the new Book: The Culture and Philosophy of Ridley Scott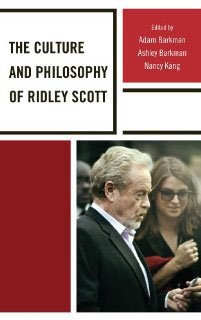 Check out Spinello & DJ Mass Transit's new Chicago mix: Spirit of the Chi 2 on Soundcloud. CD at Gramaphone Records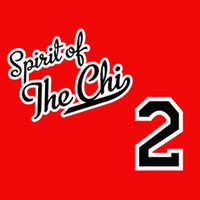 Bryan Dinello - along with the rest of the Colbert Report staff - won their second Peabody award
Bryan Dinello, Olive Cat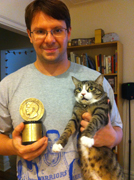 The Reunion of my 1962 undefeated, prep bowl champion Fenwick happened recently. I was the starting halfback as a junior:
Jim Dilullo, John Gorman, Dan Dinello, Tim Wengierski
Illinois Governor Pat Quinn & Dan Dinello------------ Jim, John, Dan Dinello, Tim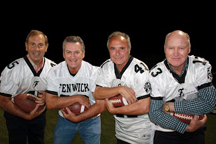 A NEW RE-MIX BY SPINELLO UPDATES HOT CHOCOLATE'S FUNKY 1973 TRACK "CICERO PARK" - IT'S GOT A CONTEMPORARY SOCIAL COMMENTARY AND WILL SEND CHILLS DOWN YOUR SPINE. FIND IT ON SOUNDCLOUD.
My RetireSpective is over.
I'm riding off into the sunset.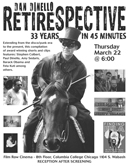 Check these stories "Filmmaker Wraps His Teaching Career" and "Class Dismissed: Columbia College film professor Dan Dinello Retires" as well as my interview on Nick D's WGN-Radio Show.
Dan Dinello and Mimi Musker ------------ Dana Dinello, Dan Dinello, Bryan Dinello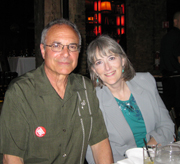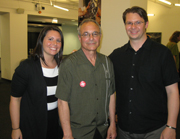 Paul Dinello, Dan Dinello, David Pasquesi -------- Paul Dinello, Dana Dinello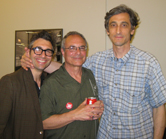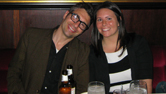 Pat, Bryan, George, Dan, and Ronnie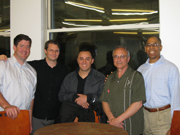 My chapter "Lucifer Rising and Falling" is in the book The Rolling Stones and Philosophy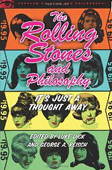 Please check out my story "The Contagious Age - Overwhelmed by Vampires, Viruses and Zombies" posted on PopMatters.com
My chapter "AutoFac" is in the book: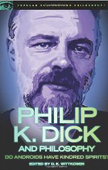 Bryan and I edited this Video to celebrate the termination of Osama Bin Laden:
The Man Who Shot Liberty Valance and the Man Who Didn't

My YouTube Channel is here
Bryan Dinello edited this video "Golden First Date" starring Amy Sedaris and directed by Paul Dinello.
Spinello and Mass Transit have produced a great new mix of 60s and 70s Chicago Funk:
Spirit of the Chi: Legends of Funk & Heavy Soul
Rally in Solidarity with Wisconsin Workers
Stop the Republican Tea Party Power Grab That Exploits the Trumped-Up Fiscal Crisis to Union Bust and Declare War Against Workers!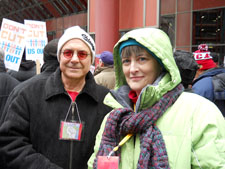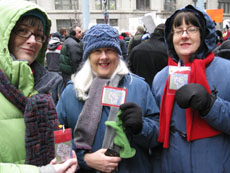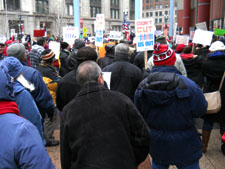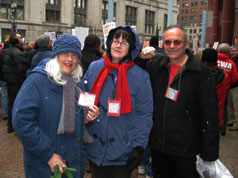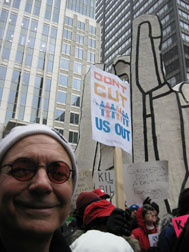 Pictures from "Rally to Restore Sanity and/or Fear"
Bryan Dinello, Dan Dinello, Stephen Colbert, and Paul Dinello/Bryan, Erika, and Dan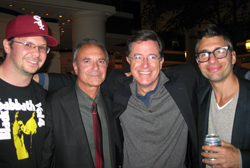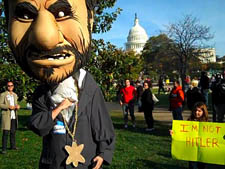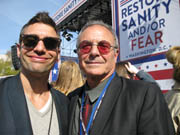 Stephen Colbert, Kareem, and Jon Stewart/Dan Dinello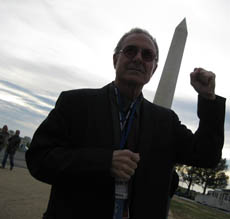 O'Jays "Love Train"

My chapter "Cyborg Goddess" for the book Anime and Philosophy is now available.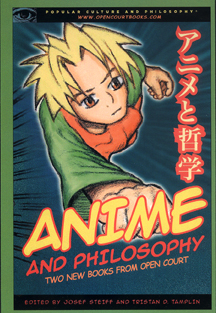 I also wrote a chapter titled "The Wretched of New Caprica" for the book - Battlestar Galactica and Philosophy (Open Court) published in 2008. Purchase it here.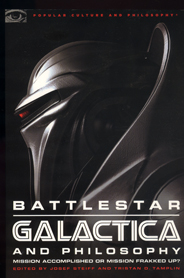 Transhumanist Dr. James Hughes tries and fails to nail Dan in a radio interview broadcast on the public affairs radio program Changesurfer ( WHUS 91.7FM Storrs, CT.). Listen to Part 1 and Part 2 of the interview.
Listen to a Podcast of Dan Dinello's Presentation:"Techno-Totalitarianism: Science Fiction Visions of Social Control, Surveillance, and The Eradication of Freedom" Scroll down the page to find it.
Read reviews of my book Technophobia! and the first chapter

Bryan Dinello lives in New York and will work as an editor on Stephen Colbert's new show show. Bryan is also DJ SPINELLO. His monthly mixes can be found on his podomatic page Spinello's Digial Crate.
Working on the Report - Check out his edit of the Michael Steele rap
Making Peace with Darth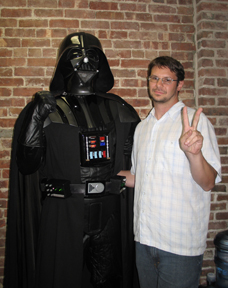 Puking on a Report Marathon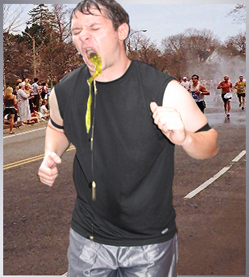 Part of "The Sids," a family of crazed Hassidic Jews. He's the angry one (top left)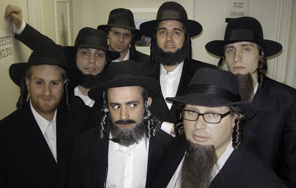 Dana and I went to the Second City Reunion Show in December 2009 to see Paul, Stephen, and Amy perform.

Here are some back stage pictures
Dana Dinello, Amy Sedaris, Paul Dinello, Dan Dinello, Paul, Dana: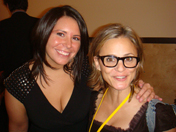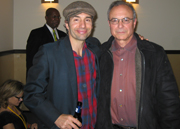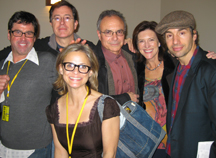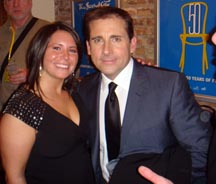 In December 2009, I also went to the Premiere of John Musker's movie Princess and the Frog. John, Pat & Terri Musker below: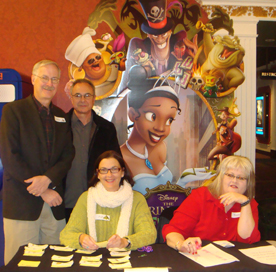 The Strangers With Candy movie with Stephen Colbert, Paul Dinello and Amy Sedaris is available on DVD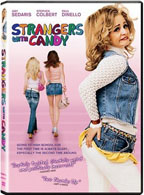 To purchase early movies, co-directed by Paul Dinello and Dan Dinello, from the pre-famous Strangers With Candy gang, go to the Film/Video page on this website.
Strangers With Candy opened June 20, 2006, in New York. I attended the New York premiere of the movie and the after-party at Dylan's Candy Store, along with Bryan, Dana and Mimi. Here are some pictures:
Paul Dinello and Amy Sedaris/Paul, Amy, Bryan and Mimi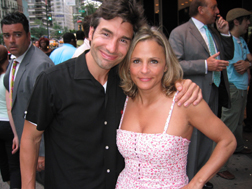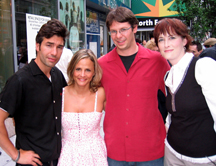 Paul Dinello, Dana, Dan, and Amy Sedaris/Bryan and Dana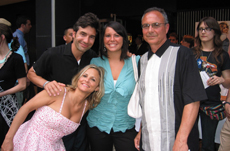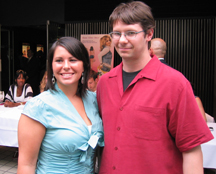 Paul Dinello attacked by photographers/Paul Schaffer and Dana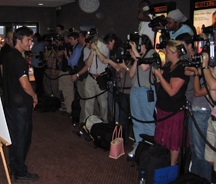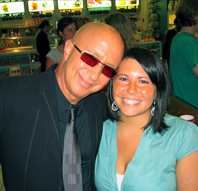 Dana tells Stephen Colbert a joke/Dana, Hilary and Bryan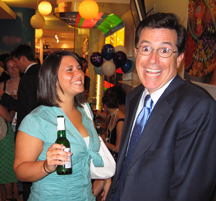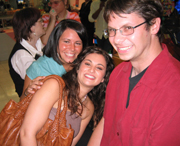 Dana, Stephen Colbert, Mimi and Paul Dinello/Dana, Stephen Colbert and Paul Dinello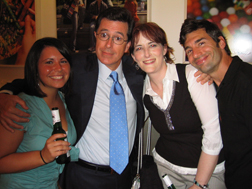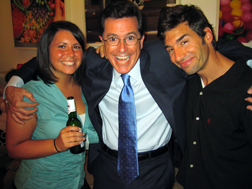 Paul Schaffer and Paul Dinello/Stephen Colbert mocks Paul's childish drawing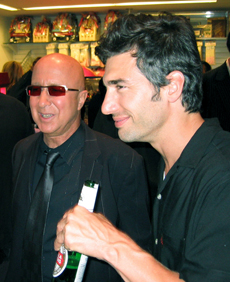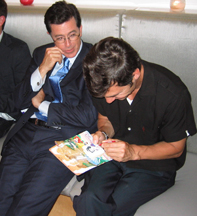 More about the movie . . .